Magnetite ore beneficiation process
Crushing equipment:

1.Primary crusher(<30mm):Jaw crusher
2.Secondary crusher(<10mm):Cone crusher
Grinding equipment:

Wet ball mill
Concentrate dressing:

Double spiral classifier, Cylinder screen, Magnetic separator,
Thickener, Dehydration tank, Flotation machine
Contact:
Helpful hints: since iron ore information should be accurate for its dressing flow, our engineers need to know well about your raw materials before designing the dressing solution.
Magnetite ore beneficiation flow chart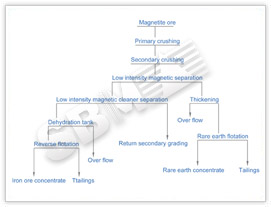 Click Here View Larger
Magnetite is fine grained metamorphosed sedimentary rock which is composed predominantly of magnetite and silica and mostly found in Banded iron formations. Magnetite mining and beneficiation involves coarse crushing and screening, and magnetic separation widely accepted for the upgrading of iron ore particles.
Magnetite ore crushing and milling process
Magnetite in large lumps is crushed into small particles by magnetite ore crushers. Common coarse magnetite ore crushers are jaw crusher (primary crusher) and cone crusher or fine jaw crusher (secondary crusher). Vibrating screen is used to separate large particles from small ones. If the product is still too large, you can add a ball mill for magnetite particle milling.
Magnetite ore magnetic rough separation
The sized magnetite ore particles are separated by the magnetite separator from the gangue minerals with a magnet. Low content magnetite particles are moved to thickener and then rare earth flotation machine. The obtained products are rare earth concentrate and tailings.
Magnetite ore magnetic well separation
High content magnetite materials are moved to dehydration tank, and then to reverse flotation machine in order to upgrade iron ore particles. The high content product of obtained materials is iron ore concentrate, and the rest one is flotation tailings.
This magnetite beneficiation process is usually so efficient that lower grade ore can be treated when it is magnetite than a comparable grade of hematite ore, especially when the magnetite is quite coarse.
Contact SBM
For product information and pricing, Chat with sales agent:
or email us:
[email protected]
Products Index
Click links below to see related products.