Limonite beneficiation process flow
Crushing equipment:

1.Primary crusher(<30mm):Jaw crusher
2.Secondary crusher(<10mm):Cone crusher
Grinding equipment:

Wet ball mill
Concentrate dressing:

Magnetic separator, classifier, thickener, reverse flotation machine
Contact:
Helpful hints: since iron ore information should be accurate for its dressing flow, our engineers need to know well about your raw materials before designing the dressing solution.
Limonite crushing and grinding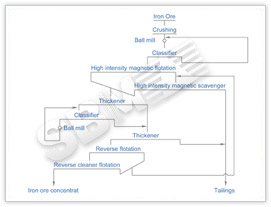 Click Here View Larger
Very low grade limonite iron ore in large lumps need to crush and grind, in order to be sized into required dimension. The common crushing machines used in iron ore beneficiation plant are jaw crusher as primary crusher, cone crusher or fine jaw crusher as secondary crusher. The iron ore materials of required size after screening then pass to the flotation process. Wet ball mill is used to grind limonite ore in powder, of which 70% is 0.076mm is size.
High intensity magnetic separation
Limonite ore after classifier passes to high intensity magnetic separator. High iron content (+47.69%) limonite ore is moved to thickener and low iron content one to high intensity magnetic scavenger separation. the middlings are mixed with rough middlings for thickening process, while the rest ones are discharged as tailings.
First thickening, classification and grinding
After first thickening, low iron content (-47.25%) limonite ore is moved to ball mill to be grinded into finer powder (90% <0.067mm). The fine ore powder is mixed with middlings after first thickening for second thickening process.
Second thickening
The second thickening is conducted for further upgrading of limonite iron ore. The product with iron content lower than 40.08% returns to scavenging, and the one higher than 49.04% passes to reverse flotation.
Reverse flotation
Reverse flotation includes rough flotation and clean flotation, through which Limonite iron ore would be greatly upgraded. The iron concentrate obtained is of 56.73% in content. The middlings return to magnetic flotation, forming a close-circle process.
Contact SBM
For product information and pricing, Chat with sales agent:
or email us:
[email protected]
Products Index
Click links below to see related products.