Iron ore mining process
Crushing equipment:

1.Primary crusher(<30mm):Jaw crusher
2.Secondary crusher(<10mm):Cone crusher
Grinding equipment:

Wet ball mill
Concentrate dressing:

Magnetic separator, classifier, thickener, reverse flotation machine
Contact:
Helpful hints: since iron ore information should be accurate for its dressing flow, our engineers need to know well about your raw materials before designing the dressing solution.
Iron ore crushing and screening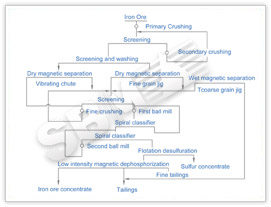 Click Here View Larger
Mining and processing of iron ore involves coarse crushing and screening. Iron ore is beneficiated by crushing and then separating the iron from the gangue minerals through screening. This is usually so efficient that lower grade ore can be treated especially when the magnetite is quite coarse. Common iron ore crushers are jaw crusher, cone crusher and fine jaw crusher.
Dry magnetic separation and wet magnetic separation
You will obtain three kind of iron ore particles after screening, respectively of 75~12mm, 12~2mm, 2~0mm in size. The largest ore particles pass to dry magnetic separation with shaking chute, the middle ones are moved to dry magnetic separator with coarse jigging, and the smallest to wet magnetic separator with fine jigging. The middlings produced by three processes are moved to screening process. The tailings of wet magnetic separation will be discharged directly.
Grinding and fine crushing
After the second crushing, iron ore particles are moved to secondary crushing and the first ball mill grinding. With fine ore particles, it is more efficient to upgrade iron ore. Wet ball mill and fine ore crushers are used during this process.
Spiral classification
Tow stage spiral classification of close-circuit is conducted, with second ball mill grinding after the second classification.
Flotation desulfurization
The obtained iron ore materials are moved to flotation desulfurization process, then to weak magnetic separation. The obtained product is iron ore concentrate. And low iron content material is discharged as tailings. You will also obtain sulphide concentrate as by-product through flotation desulfurization.
Contact SBM
For product information and pricing, Chat with sales agent:
or email us:
[email protected]
Products Index
Click links below to see related products.