Iron ore dressing plant
Crushing equipment:

1.Primary crusher(<30mm):Jaw crusher
2.Secondary crusher(<10mm):Cone crusher
Grinding equipment:

Wet ball mill
Concentrate dressing:

Double spiral classifier, Cylinder screen, Magnetic separator,
Thickener, Scavenger magnetic separator
Contact:
Helpful hints: since iron ore information should be accurate for its dressing flow, our engineers need to know well about your raw materials before designing the iron ore dressing plant.
Iron ore dressing flow chart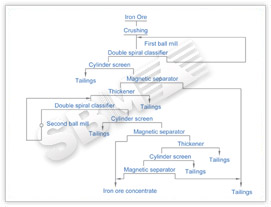 Click Here View Larger
Iron ore dressing plant usually involves a combination of crushing and milling as well as magnetic separation. This is achieved by passing the finely crushed ore over ball mills and magnetic separators.
Iron ore crushing
Iron ore crushing and milling plays a very important role in the whole dressing process, because the finer iron ore is, the easier the separation is, and so the less the production cost is. A good choice of iron ore crushing equipment is necessary.
The common iron ore crushers are jaw crusher (for primary crushing), cone crusher or fine jaw crusher (for secondary crushing). Materials in large lumps are reduced by crushers into small particles and then separated by vibrating screen. Large ones return to crushing process, while small ones pass to milling step.
1st ball mill grinding
Crushed iron ore is moved by belt conveyor to ball mill for grinding, after which, 36% of iron ore is grinded into 200mesh in size. Double spiral classifier and cylinder screen are used to separate large particles from grinded product.
Wet ball mill is usually used in metal ore processing plant. The selection of ball mill is based on ore size, required output, and required ore grade etc.
Rough magnetic separation and 2nd ball mill grinding
Low intensity magnetic separator is used to realize rough separation. Very low Fe content iron ore (-17%) is discharged as tailings, while high Fe content iron ore (+52%) is passed to thickener then to double spiral classifier. Large ore particles pass to secondary ball mill to be grinded into products less than 200 mesh in size which will return to secondary thickener. The others pass to cylinder screen. Iron ore with 53% of Fe pass to cleaner separation.
Cleaner magnetic separation
High intensity magnetic separator plays the role of cleaner separation. Product of 62.07% Fe content is regarded as iron ore concentrate, and the rest product is moved to thickener and then to cylinder screen. Low Fe content material is discharged as slag.
Scavenger magnetic separation
Iron ore of high Fe content (+39.11%) is moved to scavenger magnetic separator to maximize production yield.
Contact SBM
For product information and pricing, Chat with sales agent:
or email us:
[email protected]
Products Index
Click links below to see related products.