Rock Crushing plant with production capacity from 80-120 TPH is suitable for small scale production line. SBM Machinery has designed jaw & cone crushing plant, jaw & impactor crushing plant for hard, medium hard minerals. According to the clients' demands, dust catcher, VSI crusher will be equipped.
CS series spring cone crusher is the most popular cone crushing equipment widely used in 80TPH - 120TPH Hard Rock Crusher Plant. SBM CS CS cone crusher is of low costs, high crushing capacity, low energy consumption, compact structure etc.
In the 80TPH - 120TPH Hard Rock Crusher Plant, B series VSI crusher is a kind updated Barmac VSI crusher. SBM VSI crusher is widely used to produce high quality sand and aggregate which will be used as building and construction aggregate.
Flow chart of stone crushing plant: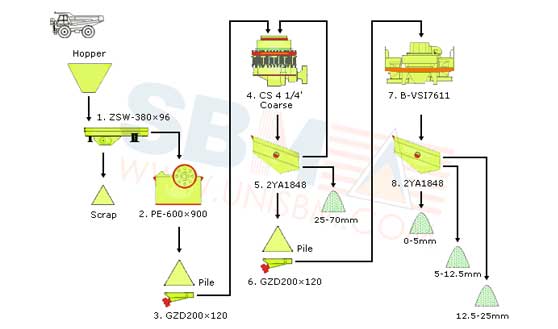 SBM design 80TPH - 120TPH complete Crusher Plant used for processing Hard Rock. This hard rock stone crusher plant is made up of ZSW-380*96 Vibrating Feeder, PE-600*900 Jaw crusher, GZD-200*120 Vibrating Feeder, CSB160 - Coarse Cone crusher, 2YA1848 Vibrating screen, GZD-200*120 Vibrating feeder, B-VSI7611 VSI Crusher, and 2YA1848 Vibrating Screen. It is used in gold processing plant, small scale complete quarry plant for crushing materials into 0-5, 5-12.5, 12.5-25 mm
Plant crushing stages: typical equipment and products
On-pit crushing plant process pictures :

Small scale stone crushing plant of 80-120 TPH with cone crusher and VSI crusher to produce high quality final products with rounded edges.
Contact SBM
For product information and pricing, Chat with sales agent:
or email us:
[email protected]
Browse by Application
Build an end-to-end solution that fits your applications, work processes, and business needs.
Related Products