SBM Machinery has designed this widely used 250TPH - 300 TPH stone crushing & screening plant with complete stationary, portable, mobile equipment. This type stone crushing plant is suitable for crushing all kind of rocks, stones, metallic minerals, recycling construction waste and so on.
The production capacity of this one nuit stone crushing plant can achieve 250TPH -300TPH. The features are: high efficiency, low cost, high quality products, low energy consumption and so on.
Stone crushing plant Flow chart: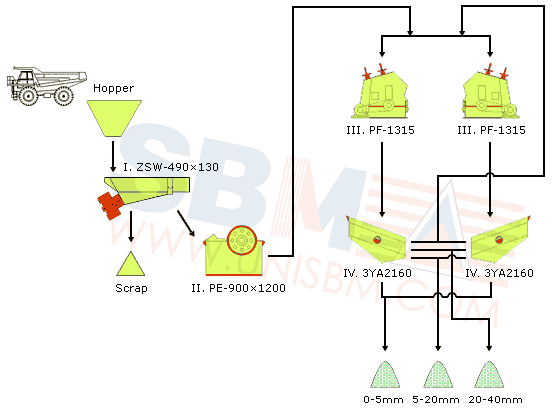 SBM 250TPH - 300 TPH stone crushing & screening plant is our small and medium scale crusher plant. It is mainly consist of ZSW-490×130 Vibrating Feeder, PE-900×1200 Jaw crusher, PF1315 Impact crusher, and 3YA2160 Vibrating screen. SBM can design the stone crushing plant flow chart according to the raw materials. SBM can also offer other different capacity stone crushing screening plant for sale with best price.
Plant crushing stages: typical equipment and products
On-pit crushing plant process pictures :

Medium scale stone crushing plant of 250-300TPH manufactured by SBM Machinery is widely used in high quality aggregate plant, stone crushing & screening plant, sand & gravel crushing plant etc.
Contact SBM
For product information and pricing, Chat with sales agent:
or email us:
[email protected]
Browse by Application
Build an end-to-end solution that fits your applications, work processes, and business needs.
Related Products