This 350-400TPH hard rock crushing plant is widely used as sand making line, rock crushing line, ore dressing line, aggregate production line, construction waste recycling plant and so on. For the contractors and final users, SBM Machinery has designed complete stationary, portable, mobile crushing plants.
The 350-400TPH hard stone crushing plant has versatile application such as iron ore crushing plant, gold ore dressing plant, bauxite crushing plant, copper beneficiation plant, nickel mining plant, manganese crushing plant, limestone crushing plant, feldspar crushing plant and so on.
Flow chart of stone crushing plant: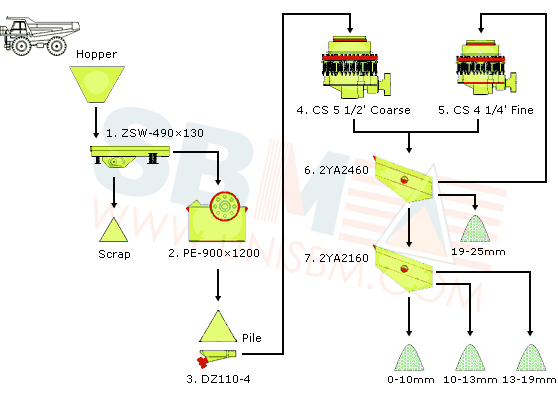 SBM design 350-400TPH hard rock crushing plant including ZSW-490×130 Vibrating Feeder, PE-900×1200 Jaw crusher, DZ110-4 Vibrating Feeder, CSB160 and CSB240 - Coarse Cone crusher, 3YA2460 and 3YA2160 Vibrating screen. This hard rock crushing plant can be used as gravel crusher plant, limestone crusher plant and sand making plant.s
Plant crushing stages: typical equipment and products
On-pit crushing plant process pictures :

Medium scale stone crushing plant of 350 - 400TPH manufactured by SBM Machinery is adopted by many aggregate plant, stone crushing plant, gold processing plant, iron ore dressing plant and so on.
Contact SBM
For product information and pricing, Chat with sales agent:
or email us:
[email protected]
Browse by Application
Build an end-to-end solution that fits your applications, work processes, and business needs.
Related Products