Introduction to gold mining
Gold is a precious ore that has fascinated society in human history. However, it can also be extracted from gold ore. Gold is generally found in two types of deposits: lode (vein) or placer deposits. Generally, it is extracted from lode deposits by drilling or blasting, while placer deposits require hydraulic mining, dredging, or power shoveling. Once extracted the gold ore should be crushed, grinded, and pulverized to prepare it for refining to get pure gold. SBM is a professional gold mining manufacturer in gold ore crushing, grinding, and beneficiation process.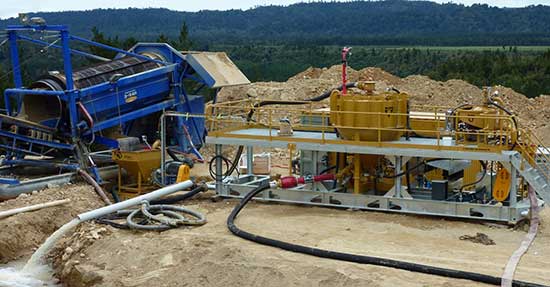 Gold mining process
Gold ore beneficiation process is divided into four stages: crushing and screening, grinding and classification, sorting stage and drying process. Raw gold ore is first fed into the first primary crushing equipment jaw crusher. After crushing, upper and middle particle of the vibrating sieve product will be again put to secondary crusher. The disqualified products of the secondary screening will return to the first crusher to have a re-crushing. The qualified fineness of the final product would via the hoist, feeder evenly be fed into the ball mill, the first stage of the ball mill grind in closed circuit grinding with a hierarchical institution, and the classification overflow cyclone classification are transferred into the second ball mill and then grind. And spiral sorting machine washes and grades gold ore according the principle that the different of the proportion of solid particles precipitated in the liquid velocity.
Washed and graded mineral mixes constitute a closed-circuit grinding through the magnetic separator, and then go in the cyclone. First cyclone has a priority flotation. And then foam products have a second selection and third selection to get the final concentrate product. The flotation tailings will process rougher time selection, secondary selection, three selections, sorting a sweeping election process, a selection of tailings with a sweeping election foam products together should be transferred into the cyclone to have a re-grading, re-sorting, secondary to get final concentrate product. It contains large amounts of water, and shall be subject to concentrated machine in a gold mine to be separated, the initial concentration, and then dryer can dry gold concentrate.
Mini gold mining plant
The mining gold mining processing plant is purposely designed for the small-scale gold mining mine owners. The complete gold plant includes a hammer crusher, a centrifugal concentrator and a water pump. The plant is used in remote place because of its simple equipment design, easy maintenance and stable and convenient operation. There is no need to training workers.
The crusher used for the gold mining process plant is SBM newly-developed hammer crushers. This newly designed kind hammer crusher can act the role of both crushing and grinding. It not only makes the procedure simple but also saves money for custom. The newly designed centrifugal concentrator is very efficient in recovering free gold, which has adopted the suggestion from clients' site. The raw gold ore can be crushed and grinded to less than 400μm, and then the recovery rate is up to 95% by using this kind of machine. This mini gold mining processing plant can bring in profit as soon as it is put into use. Its stable operation ability and quality will help clients a lot.
Mini mining equipment manufacturer SBM is a professional gold ore mining equipment manufacturer in China, and SBM offers all types of crusher, screening machine, grinding mill and washing equipment, beneficiation equipment such as shaker to mine gold ore.
SBM also design mini gold ore mining process flow chart including crushing, screening, washing , grinding process and beneficiation process for the gold ore mining project in over 130 countries such as India, Mauritania, Pakistan, South Africa, Saudi Arabia, USA, Uganda, Colombia, Peru and Canada.
Mini Mining Equipment in Complete Gold Plant Related articles:
Products Index
Click links below to see related products.
Contact SBM
For product information and pricing, Chat with sales agent:
or email us:
[email protected]