Dolomite powder uses
Dolomite can be used for rubber, paper filler. Products can improve the chromaticity, resistance to weathering ability to improve the mechanical stability, reduce shrinkage and internal tension, reduce water and oil absorption capacity expansion and crack such products including adhesives, sealants plastics, paints, detergents and cosmetics.
Dolomite can be used as a neutralizer of soil acidity and the acidity caused by the use of a class of urea fertilizer to improve crop production. Calcitic dolomite agricultural lime treatment is a pesticide to anti pests.
Dolomite manufacturing process for metal magnesium
Magnesium and magnesium alloy are used as a novel material in military and civilian areas with vast market prospects. The process: Dolomite → grinding → rotary kiln → crush → canning recovery → ferrosilicon powder → fluorite powder → the magnesium gas → cooling and crystallization → melt refining → injection molding cover agent → packaging → metal.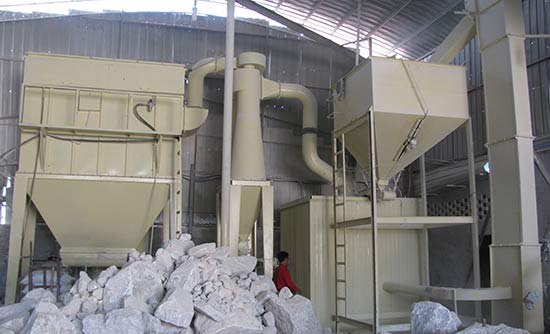 Dolomite powder plant in Tanzania
Dolomite stone materials are feed to the center of the grinding table through the air locking feeder. Hot air comes into the grinding chamber. Materials move to the edge of grinding table from the center, and then are pulverized by the grinding roller until blown up by the airstream. Bigger materials fall down to the grinding table for further grinding. Finer dolomite stone grains in airstream pass the separator on the top of the mill, and are gathered by dust catcher. By contacting the hot airstream, the moisture materials are dried to meet your moisture requirement.
About Us
SBM is a processional company in the production of large stone production line, sand production line mainly design, manufacture, sales and service as one of the international specialized enterprises. SBM can provide client with project design, process design, standard and non-standard product design and production. The corporate headquarters is located in Shanghai\'s Pudong Airport Industrial Park, just 4 km from Shanghai Pudong International Airport, close to the A30 motorway, and convenient transportation. SBM main products are: jaw crusher, impact crusher, sand making machine (vertical shaft impact crusher), vibrating screen, vibrating feeder, sand washing machine, milling machine, grinder, etc.
Products Index
Click links below to see related products.
Contact SBM
For product information and pricing, Chat with sales agent:
or email us:
[email protected]