Gold Jaw Crusher for small scale gold mining
It is usually used in primary and secondary crushing. It is one of our main products; jaw crusher is designed by our engineers with large reduction ratio, even granularity, simple structure, reliable operation, convenient maintenance. The scope of the motor power is 37-200(KW),and the output is from 12t/h to 800t/h. For different requirement, we will provide different choices.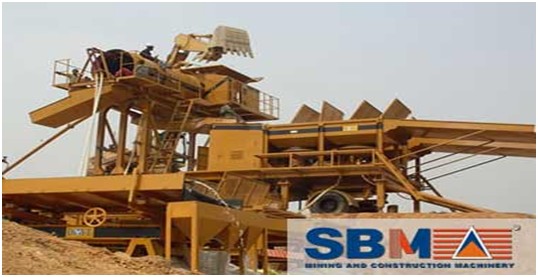 Gold grinding mill for small scale gold mining
Gold grinding mill is used to grind crushed gold ores into powder for gold recovery. Ball mill is the main gold mill. SBM can offer wet ball mill and dry ball mill for sale for small scale gold mining or large gold mine deposit. SBM also supply other grinding mills used as gold ore mills, like Raymond mill, SAG mill.
The gold magnetic separator in small scale gold mining
All materials possess magnetic properties. Substances that have a greater permeability than air are classified as paramagnetic; those with a lower permeability are called diamagnetic. Paramagnetic materials are attracted to a magnet; diamagnetic substances are repelled. Very strongly paramagnetic materials can be separated from weakly or nonmagnetic materials by the use of low-intensity magnetic separators. Minerals such as hematite, limonite, and garnet are weakly magnetic and can be separated from nonmagnetic by the use of high-intensity separators.
The craft of small scale gold mining
Ore dressing is the major process to concentrate the valuable minerals into products of smaller bulk, and collect the gangue into tailing. Ore dressing process begins with crushing and screening ends with grinding.
Firstly, the crushing plant will break the large ores into smaller particles then grind the ore into powders.
Screening is a method of sizing whereby graded products are produced, the individual particles in each grade being of nearly the same size.
After the crushing and grinding process, the ore in beneficiation plant will be process flotation, leaching.
Features & Advantages of the small scale gold mining:
1, High quality gold ore processing equipment;
2. Installation Services & Automation & Instrumentation service;
3. Spare parts and consumables parts support for the gold ore processing plant.
4. State-of-the-art crushing, screening and grinding plants
5. Jaw, cone, impact, VSI crusher, ball mill, Raymond mill, vertical mill, trapezium mill for your choice
Small scale gold mining equipment Related articles:
Products Index
Click links below to see related products.
Contact SBM
For product information and pricing, Chat with sales agent:
or email us:
[email protected]