Sand Making Production Line Project
Sand Making Production Line Case Overview
A customer from Shandong(China) operated a stone quarry for dressed stone. however,many chips which are extremely cheap come from the crushing process. As time passed, the chips was piled up taking us a large area.He asked engineers of SBM to solve this problem.
Engineers reformed the production line and suggested a sand making machine VSI8518 for him to process chips into sand with a capacity of about 40t/h as well as designed the sand making plant for him .This design not only solved the chips space waste problem, but also brought great profit. It also won the customer a proferencial policy for exemption of sand making VAT because of its national leveled energy saving and emmission saving standard.
Brief introduction of SBM Sand Making line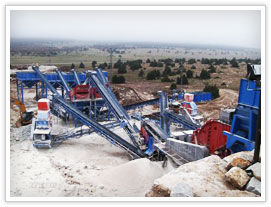 The raw materials are first put into elementary-crushing machine for crush, then the belt conveyor transfers the elementary products to the secondary-crushing machine for secondary crush. The secondary products will be separated into two kinds by the vibrating screen. The parts satisfying the standard of the Vertical Shaft Impact Crusher will be conveyed to the sand-making machine and the other parts will return to the secondary-crushing machine. The parts into the sand-making machine will be the finished products after being washed in the sand-washing machine. The other parts will be for the secondary crush.
Unitll mow, SBM have designed sand making production line for thousands of clients from more than 60 countries and serviced for field of sand making and sand shaping for more than ten years. Not only in the operating factor of material, but also in the engary saving, SBM has been at an international leading level.
Contact SBM
For product information and pricing, Chat with sales agent:
or email us:
[email protected]
Products Index
Click links below to see related products.