Coal Mining Project for Nigeria Mining
Location:

Nigeria
Scope:

Coal mining processing plant solution design, coal crushers and coal mills provision, screening plant installation and after-sale maintenance services
Date:

2008– 2009
Contact:
Product Line Supported By SBM
This coal mining project is an open pit mine located in Nigeria, announced by mining company - Western Goldfields - that it has discovered 62,400,000 tonnes of proven reserves of coal deposits worth US$1.2 billion which could be used for the generation of electric power.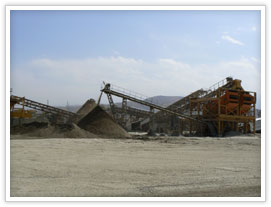 Coal provides one of the best alternative sources of energy for Nigeria due to its availability, easy usage and high heat emission. Therefore it's extremely important to choose best suitable coal mining project solution.
We have cooperative with them to provide series of coal mining equipment including coal crushers, coal mills, screening plant and the whole coal processing plant design. The whole project went smoothly and the cooperation will continue.



Relative Products
Contact SBM
For product information and pricing, Chat with sales agent:
or email us:
[email protected]
Products Index
Click links below to see related products.