Mining Equipment
Mining equipment like mining crusher and mining mill is an important mining tool which is widely used in stone quarrying, mining, ore dressing plant, aggregate production plant, powder making industry, recycling industry and so on. Usually, the crushing plant flow chart goes as follows: crushing, grinding, screening, washing, drying etc. SBM Machinery can supply the contractors, end users with whole unit crushing plant from primary, secondary, tertiary crushing to powder making machine, sieving, screening equipment. Complete stationary, mobile, portable systems in open-circuit or closed-circuit type are available for the customer.The popular mining equipment is: jaw crusher, cone crusher, impact crusher, VSI (vertical shaft impact) crusher, ball mill, Raymond mill, trapezium mill, ultrafine grinding mill etc.and the mining equipment is popular in many countries such as China, South Africa, Australia, America, Brazil, German etc.
Mining Crusher Equipment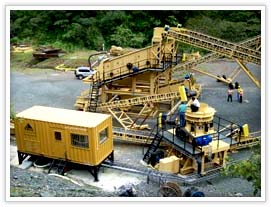 At stone quarry, mining crushers like heavy duty jaw crusher, cone crusher, impact crusher, VSI crusher are widely used. In addition, we can manufacture proved small jaw crusher, HP cone crusher, single cylinder cone crusher, sand making machine for the customers' application.
The mining crusher is suitable for producing building materials, roadbaselike construction aggregate building aggregate, riprap, sand, and gravelfrom natural stones such asbasalt, granite, limestone, marble, cobble stone, river stone, concrete, gravel, manufactured sandetc. at open-pit mine, and the mining crusher in stock features with high crushing capacity, low costs, low downtime, easily operate, versatile application etc.
SBM Machinery has designed proved stone quarrying line such as stone crushing plant, aggregate production line, manufactured sand making line,construction waste recycling equipment etc.
Mining equipment for ore processing
Ore dressing plant is widely used for ore processing & extraction at an ore beneficiation plant to concentrate ore minerals. The ore dressing process contains mine crushing, screening, grinding, washing, drying and so on.
Ore dressing plant of state of the art technology manufactured by SBM is widely used for processing iron ore, bauxite ore, gold ore, manganese, uranium, copper, nickel, zinc, coal etc.
Mining equipment for powder making industry
Mining milling machinemanufactured by SBM Machinery is an ideal equipment used in powder making industry for grinding gypsum, limestone, phosphate, clay, coal, cinder, chalk, ore minerals etc.
The popular grinding mills are ball mill, MTM trapezium mill, MTW trapezium mill, coarse powder mill, ultrafine mill, Raymond mill etc. The final grain size of the product can be down to 2500 mesh (or 0.005mm).
Contact SBM
For product information and pricing, Chat with sales agent:
or email us:
[email protected]
Products Index
Click links below to see related products.