Project from CGO group Co., Ltd
Location:

Kuala Lumpur, Malaysia
Scope:

Designing the complete crushing plant, quarry equipment with stone crusher
and separator
Date:

2008
Contact:
Stone crushing and screening plant Supported By SBM
The jaw crusher company plans to build a quarry to meet the needs of building stone materials in Malaysia. SBM supplies the complete crushing plants and service.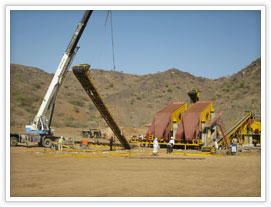 The complete crushing plant are used to crush big rocks into small size or sand for construction and other purposes. The raw stones of quarry are mostly limestones. The project is the broad heading. The capacity of crushing must be upto 800 - 1000 TPH. And it's purpose is to provides the building aggregates and sands for infrastructure.
SBM's project scope includes the complete crushing plant with crushing and screening process including designing, installation, and maintenance services. SBM also provides some spare wear parts of crusher machines.
Relative Products
Contact SBM
For product information and pricing, Chat with sales agent:
or email us:
[email protected]
Products Index
Click links below to see related products.