Algeria Gold Mining Project
Location:

460 km west of Tamanrasset
Scope:

Gold dressing plant solution design, primary crushing and two-stage grinding equipment provision, screening plant installation and management services
Date:

2008– ongoing
Contact:
Product Line Supported By SBM
Amessmessa deposit could produce between 200 000 and 300 000 ounces of gold per year in the 3 to 5 coming years. Gold dressing has been carried out under the usage of our gold dressing equipment.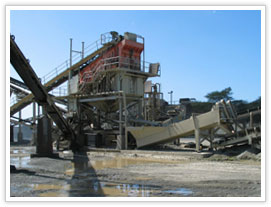 The gold process plant is a conventional carbon-in-leach (CIL) type facility consisting of primary crushing, two-stage grinding, leaching, adsorption and thickening process stages; elution, electrowinning and smelting gold recovery stages; and a cyanide detoxification stage treating process plant tails before disposal in a new tailings storage facility, being built 3km from the plant.
From the gold ore crushing, grinding to its screening, our machineries have been greatly applied. The whole gold dressing plant works well with the further processing equipment.


Relative Products
Contact SBM
For product information and pricing, Chat with sales agent:
or email us:
[email protected]
Products Index
Click links below to see related products.